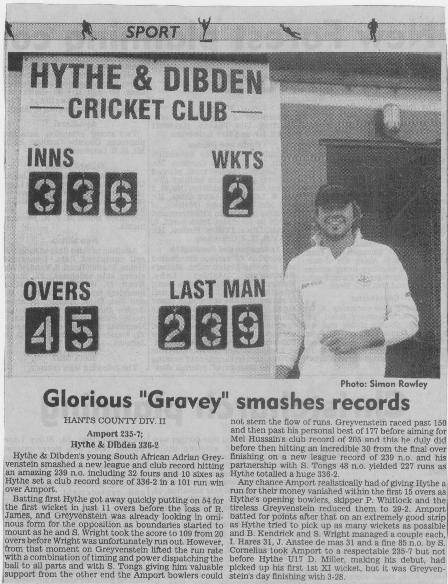 Hampshire League All Time Stats
The Hampshire League have recently produced several All Time Stats going back to the forming of the league back in 1973.
Several H&D Players and the Team still feature in the 46 years of Stats
Hythe's Overseas in 2003 ~ South African Adrian Greyvenstein scored 1077 runs in a season.
Amazingly that is now the 10th highest score for County 2
Inam Agha was played for Hythe in 2016 & 17- is 9th highest of all time in Regional 4 Central when he scored 1080 runs in 2009 for Peartree.
Adrian Greyvenstain scored 239* vs Amport in 2003 ~ He shares the highest individual score in County 2 with Will Di Cani Longparish who also scored 223* in 2015.
There are however 4 higher scores recorded in the all time Hampshire Stats.
Jamie Meredith's 200* vs IBM Hursley last year is the 67th highest ever individual score.
Richie Froggett took 8 for 12 in 2001 vs Andover. Surprisingly that is now the 34th highest ever figures in the HCL.
Hythe & Dibden are 1 of 4 teams that have won County 4 Twice. St.Cross have won it 3 times.
Hythe & Dibden won County 4 in 2001 with a 100% record. They are 1 of 107 Hampshire Clubs to achieve this.