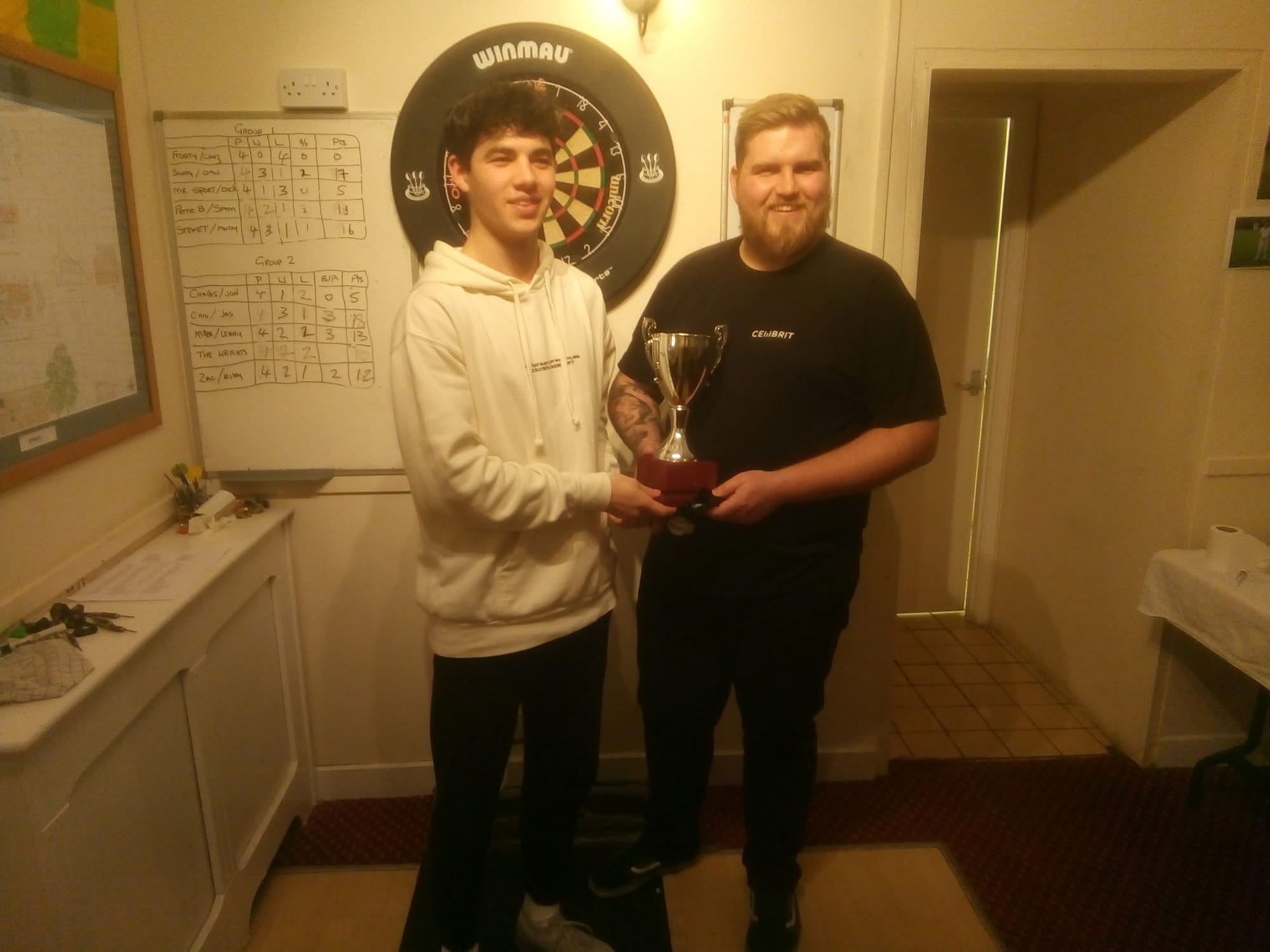 Hythe & Dibden Darts Doubles Tournament
The Favourites came out on top as Scotty Rollinson & Dan Taylor won the 2nd H&D Doubles Tournament.
Firstly thanks to everyone who participated ~ 20 down the club on a cold Monday night is appreciated.
On paper Group B was the hardest group and so it proved as Chalky & Wrighty's team went a tumbling out of the tournament at the group stage.
Chiv and his boss Jason won the group despite with a 3-1 record. Killer & Lenny finished 2nd one point ahead of Zac Millar & Riley.
Meanwhile Group A Sam & Pete Bainbridge won the group ahead of Scotty & Dan. It was tough on Sicknote & Steve Taylor as they finished 3-1 but went out by 1 point.
So too did one of last years winners Frosty (just deserts after sacking Chiv to partner Charlie.)
The Semi's saw Scotty & Dan beat Chiv & Jason on the doubles whilst Sam & Pete did likewise over Killer & Lenny. The aussie was out.
The final was a below par affair but Scotty & Dan won it.
Final League Tables Group A
| | | | | | |
| --- | --- | --- | --- | --- | --- |
| Team | Pld | Won | Lost | Bonus | Total Pts |
| Pete B & Sam | 4 | 3 | 1 | 3 | 18 |
| Scotty & Dan | 4 | 3 | 1 | 2 | 17 |
| Andy & Steve T | 4 | 3 | 1 | 1 | 16 |
| Mr.Sport & Dick | 4 | 1 | 3 | 0 | 5 |
| Frosty & Charlie | 4 | 0 | 4 | 0 | 0 |
Final League Tables Group B
| | | | | | |
| --- | --- | --- | --- | --- | --- |
| Team | Pld | Won | Lost | Bonus | Total Pts |
| Chiv & Jason | 4 | 3 | 1 | 3 | 18 |
| Pete & Lenny | 4 | 2 | 2 | 3 | 13 |
| Zac & Riley | 4 | 2 | 2 | 2 | 12 |
| Simon & Derek | 4 | 2 | 2 | 0 | 10 |
| Chalky & Jonjo | 4 | 1 | 3 | 0 | 5 |
Semi-Finals
| | | |
| --- | --- | --- |
| Scotty & Dan | Beat | Chiv & Jason |
| Pete B & Sam | Beat | Killer & Lenny |
Final
| | | |
| --- | --- | --- |
| Scott Rollinson & Dan Taylor Beat Pete Bambridge & Sam Page | | |